The Average Investor is Terrible at Stock Picking
The estimated reading time for this post is 2 seconds
Note: Highlight to Tweet is enabled - Just highlight text to easily share the selected content to Twitter!
Thanks to The Big Picture and Value Walk for bringing this chart to my attention that was included in a recent Seth Klarman note.
Asset Class Returns vs the Average Investor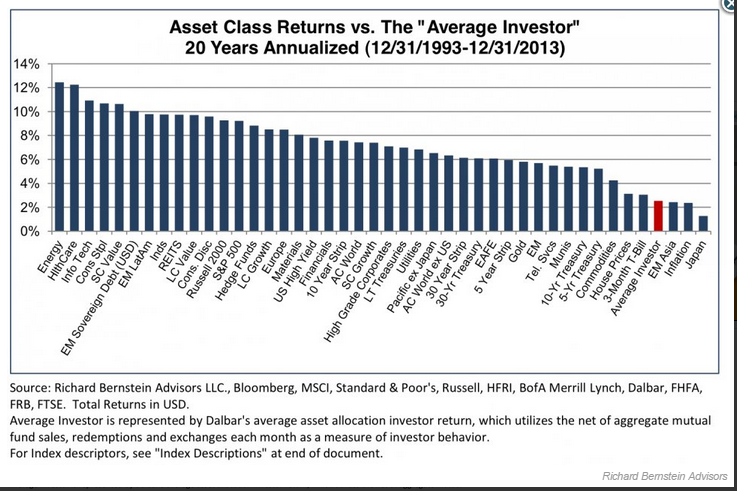 I'm not sure what most investors are doing with their investments, but it isn't pretty.  In the above chart, it displays the annualized return over the past twenty years by asset class.  Farthest left is Energy which average just over 12% return per year for 20 years, and all the way to the right is Japan with a dismal 20 year return.  But look at where the Average Investor sits with a paltry 2.x% annual return over 20 years. I would like to see more on the specifics about how the data was collected and aggregated, but this is atrocious.
The Average Investor has returned less annually than almost every other asset class shown, and the rate was just above inflation (depends on the inflation rate used).  The past twenty years have had a lot of ups and downs with the Internet bubble and then the Real Estate bubble causing the financial crisis deemed the Great Recession and so on.  I think many investors are emotional scarred, and make very poor investment decisions during times of stress and volatility.  Instead of buying assets after a big crash or pullback, the Average Investor will become scared and sell. This is the exact wrong thing to do in this situation.
By looking at this chart, it looks like the Average retail Investor is just awful at picking stocks and is much better just sticking to Index funds.  Because of human emotions, it still appears that the markets can certainly act irrational leading to opportunity for more sophisticated investors to take advantage.  I think this is what has happened since 2008-2009 when the smart money was buying and the Average Investor was running from Wall St. and into cash.
General Disclaimer
The content contained in this blog represents the opinions of Ray Bonneau and RayBonneau.com. Ray Bonneau or persons posting on RayBonneau.com may hold either long or short positions in securities of various companies discussed in the blog. The commentary in this blog in no way constitutes a solicitation of business or investment advice. Readers should do their own homework and research when making investment decisions. The blog is intended solely for the entertainment of the reader, and the author.
Ray Bonneau is a participant/publisher in certain affiliate programs, including Amazon's Associates Program. Ray Bonneau will earn a small commission when a link to an affiliate site is clicked and a purchase is made. Affiliate programs help Ray Bonneau earn money to pay for this blog. Readers do not pay any extra money when clicking and using affiliate links on RayBonneau.com