Feedly – Google Reader Replacement
The estimated reading time for this post is 3 seconds
Note: Highlight to Tweet is enabled - Just highlight text to easily share the selected content to Twitter!
By now anyone that is a Google Reader user has heard the news.  Google will sunset Google Reader on July 1, 2013.  I know that a lot of investors use RSS feeds to keep track of the vast amount of information that is released, and everyone up to now has used Google Reader as their RSS reader.  For me, I use it to keep track of blogs, company filings, news on portfolio companies, S-1 filings, 13D filings etc…  It's a central source for me to review all of the released information in one location so that I can easily review the information.  I also use my iPad to review the information, and was using a product called Ziin.me that allowed me to read all of the my Google Reader RSS feeds in an easy to read format.  Well, with Google's announcement yesterday, everyone is scrambling to find an alternate solution.
That solution for me is Feedly (http://www.feedly.com).  Feedly is an RSS reader application with support for the web, iPhone, iPad, Android and Kindles.  It's very easy to connect your Google account to Feedly, and have Feedly access your current Google Reader RSS feeds.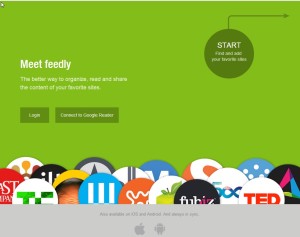 The above image is the home screen of the Feedly website.  To get setup with an account, just click on the "Connect to Google Reader" button.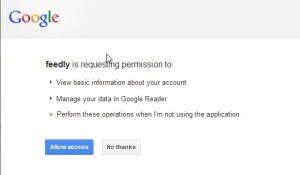 Feedly will then ask you to grant the application permissions to access your Google account (you'll need to be signed into your Google account, or enter your account information if not).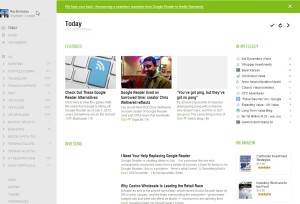 That's it!  Your Google Reader account is now connected to Feedly.  There are many settings within the application, so you should review all of the settings to get the application setup the way you want to digest your RSS content.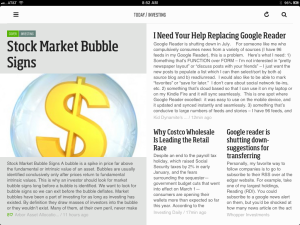 I have downloaded the Feedly iPad app, and can now read the RSS content from my iPad.  This is my primary means of reading my RSS content.  As you can see in the image above, Feedly has done a nice job of displaying the content.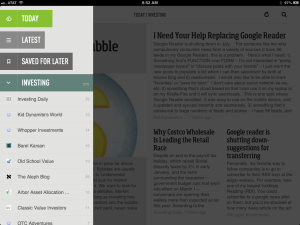 A menu is accessible on the iPad to select your categories, individual RSS feeds and other options.
You may have been thinking that Feedly is just a Google Reader viewer, which it is, but they have implemented technology they call Normandy which is a Feedly clone of the Google Reader API that runs on the Google App Engine.  The great thing about Normandy is when Google Reader shuts down on July 1, 2013, Feedly will seamlessly transition over to the Normandy back-end instead of Google Reader, and everything will run exactly the same.  End result: Feedly has created a seamless migration from Google Reader to Feedly!  You can read more about Normandy and the seamless transition on their blog.    Feedly has also provided tips for anyone transitioning from Google Reader to Feedly.
So far, I'm pleased with the ease of transition to Feedly from Google Reader.  I was worried because I'm a heavy user of Google Reader.
General Disclaimer
The content contained in this blog represents the opinions of Ray Bonneau and RayBonneau.com. Ray Bonneau or persons posting on RayBonneau.com may hold either long or short positions in securities of various companies discussed in the blog. The commentary in this blog in no way constitutes a solicitation of business or investment advice. Readers should do their own homework and research when making investment decisions. The blog is intended solely for the entertainment of the reader, and the author.
Ray Bonneau is a participant/publisher in certain affiliate programs, including Amazon's Associates Program. Ray Bonneau will earn a small commission when a link to an affiliate site is clicked and a purchase is made. Affiliate programs help Ray Bonneau earn money to pay for this blog. Readers do not pay any extra money when clicking and using affiliate links on RayBonneau.com